Cat Wizard
"Inflicts AOE damage with its global deploy. Specializes in spellcasting, but would rather spend its time grooming, or judging you."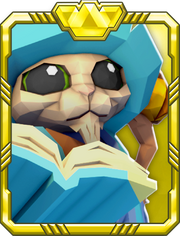 The Cat Wizard is an epic unit unlocked in Riverfall Rise.
The Cat Wizard is a moderately-costed weak troop with the Blast Strike trait. Similarly to the Meteor, the Cat Wizard can deal a large amount of damage to an area. Note that the Cat Wizard does need an empty tile in order to be spawned, unlike the Meteor. After it is deployed, it is a very fragile troop, but can serve as a blocker or distraction for your opponent.
The Cat Wizard's achievement is:
Damage two or more enemies with a single attack when deploying CAT WIZARD.
You can use knockback, pull and swap abilities to help set up units for the perfect strike. Otherwise, it's just about waiting for your opponent to position their units in the right places.
The Cat Wizard has 65 health and 130 damage at level 1, destroying these units in one shot, ignoring armor or evasion: